Shakiri ELISA Kit is a recombinant, humanized, anti-human interleukin 6 (IL-6) receptor monoclonal antibody that achieves a significant therapeutic response rate, anti IL-6 inhibitor (injection) was further approved by the FDA for the treatment of adults with giant cell arteritis, an inflammation of the blood vessels (vasculitis) in May, 2017.
Anti IL-6 inhibitor  has been recently identify and is in use in the treatment of Covid-19 patients and the related clinical trial is ongoing in different centers.
If you are one of this center and need to measure the level of  the quantitative analysis of free anti IL-6 together with the qualitative determination of antibodies to IL-6 in serum and plasma samples Labospace is offering the possibility to run your samples in service or supply both ELISA kit CE-IVD labelled.
Interleukin-6 Human ELISA
Regulatory status:IVD CE
Type:Sandwich ELISA, Biotin-labelled antibody
Other names:IL-6, Interferon-beta 2, B-cell stimulatory factor 2,HGF
Species:Human
Cat. No. RD194015200R96 wells (1 kit)
PubMedProduct Details
Technical Data
Successful participation in EQA!
We are pleased to announce that we have successfully participated in the External Quality Assessment (RfB, survey of March 28, 2019), being involved in determination of IL-6.
Please find the Certificate in Docs or see article in RnD News.
Type
Sandwich ELISA, Biotin-labelled antibody
Applications
Serum, Urine, Cerebrospinal fluid, Bronchoalveolar lavage, Amniotic fluid, Plasma, COVID-19
Shipping
At ambient temperature. Upon receipt, store the product at the temperature recommended below.
Storage/Expiration
Store the kit at 2–8°C. Under these conditions, the kit is stable until the expiration date (see label on the box).
Calibration Curve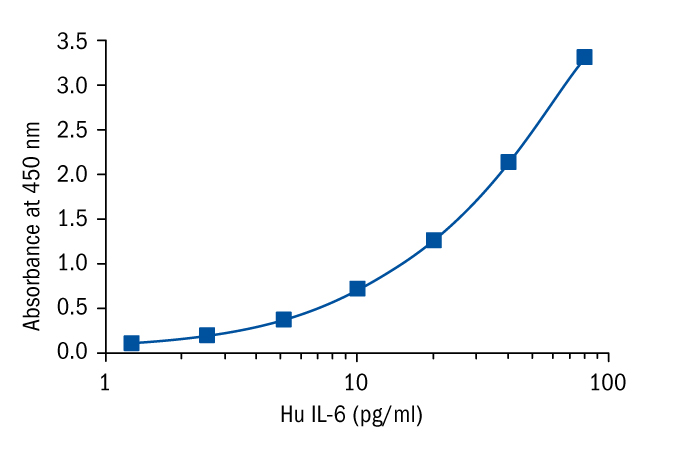 Calibration Range
1.25 – 80 pg/ml
Limit of Detection
0.65 pg/ml
Intra-assay (Within-Run)
n = 8
CV = 4.7%
Inter-assay (Run-to-Run)
n = 6
CV = 4.9%
Spiking Recovery
101.3%
Dilution Linearity
Serum = 91.2%
Urine = 93.3 %
CSF = 84.5%
Amniotic fluid = 99.4%